Olivier Sarr
 
Height: 210cm – 6'11''
Born: 20.02.1999
Nationality: France
Position: Center
Current team: Wake Forest
RANK:
Of 1999 Generation
PREDRAFT MEASUREMENTS
| YEAR | SOURCE | HEIGHT W/O SHOES | HEIGHT W SHOES | WEIGHT | WINGSPAN | STANDING REACH | NO STEP VERT | MAX VERT |
| --- | --- | --- | --- | --- | --- | --- | --- | --- |
| 2014 | Eurocamp | | | | | | 20.5" | 25.0" |
STRENGHTS
WEAKNESSESS

good size (7′) with a great wingspan (7'3) for a center
runs and moves well on the court for a 7′. Can cover a lot of ground defensively with his quickness.
good shot-blocker, owns a great timing, the combination of his wingspan and quickness helps him to rotate fast and block shots.
able to switch on pick and roll and to guard smaller guys on the perimeter. Really valuable for a big men those days.
capable outside shooter, nice shooting stroke for a big men, has touch to finish around the rim with some hooks shots or floaters.
got good skills and handles for a big man. Got bigger late and was a guard before. He stood at 6'5 in 2014 when he arrives to Insep right now he is a 7′

very light at 220 pounds for a 7′, needs to add strength to his body because it affects him on a lot of way for the moment.
needs to improve his moves in post up situations because with his lack of strength he can't push defender at the post. Only a finisher at the rim or on open jumpers for the moment.
struggling defensively in the post, gets pushed by his opponent and make too much fouls
not a good rebounder, struggling with box out his opponent and not a great timing to jump to catch the rebound.
injury history with his knees, he does not play a single game this season because of a chronic tendinitis and finished the last season early because of his knees

OUTLOOK
Olivier Sarr is an interesting prospect with his combination of size, wingspan and mobility. As he grew up late he needs to learn how to use his body, add weight and adapt his game. His skills and shooting stroke of a guard/forward added to his size are intriguing. His father is a former player who played essentially in the 4th french division. Olivier was well raised in an upper middle class family, he is a good student who passed his high school diploma in science.
League / Team
G
MIN
PTS
2%FG
3%FG
%FT
RD
RO
RT
AS
ST
TO
BFv
FCm
Eff
FIBA U18 2017
France
5
18.8
7.6
50.0%
50.0%
85.0%
2.6
2.8
5.4
0.8
0.8
1.4
1.2
2.4
11.8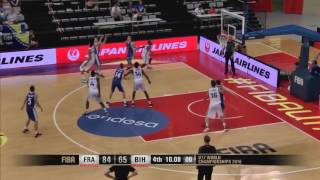 Olivier Sarr FIBA U17